Singapore CPS Certification
Certification Introduction
The objective of the Singapore Consumer Protection (Safety Requirements) Registration Scheme or CPS Scheme is to safeguard consumers' interest by ensuring household products, designated as Controlled Goods, meet the specified safety standards.
Why Choose Us?
HTW Lab, accredited by CNAS, CMA, CNCA & A2LA, consistently operates competently and generates accurate and valid results in accordance with ISO/IEC 17025. We are also IECEE CB Scheme Test Laboratory (CBTL). Thus, testing reports from HTW Lab can be accepted between countries.
Your Benefits At A Glance:
1.20 Years Of Experience
HTW has extensive experience in all types of devices and regulatory requirements across markets. 
2.Provide Free Modification Service Program
Together with our wealth of knowledge in complex regulations globally, HTW provides a complete suite of testing solutions according to your needs including free Modification service.
3.Save time to global markets
With over 7,000 square meters of labs, HTW offers the best testing cycles and you don't have to wait in line, HTW offers 1-on-1 service.With our in-depth insight of global product quality and regulatory requirements, HTW can optimize your costs and minimize your time to market.
4.Complete qualifications
ISO/IEC 17025 lab, accreditated by CNAS, CMA,A2LA,GLP.
5.Competitve price
located in China ,Testing costs are lower than other labs.
We're Here for You

We're based in China but regularly work with clients globally. We will get back to you in 1 working day.
Our Business Hours: 
8.30am - 5.00pm in CST (UTC/GMT+08:00) Monday - Friday 
Email:
Looking forward to receiving your email !
HTW Testing and Certification Solutions.
Regulatory Authority
The CPS Scheme is administered by Enterprise Singapore as the Safety Authority since 1991 under the Consumer Protection (Safety Requirements) Regulations. One of the roles of the Safety Authority under the Regulations is to ensure compliance by industry on the registration of thirty-three (33) categories of Controlled Goods.
Certification Flowchart
Registration of Controlled Goods under the Consumer Protection (Safety Requirements) Regulations is based on Certificates of Conformity (CoC) issued by designated third party Conformity Assessment Bodies (CABs), or Supplier's Declaration of Conformity (SDoC) declared by Registered Suppliers. Suppliers of Controlled Goods for consumers in Singapore must first be registered with the Safety Authority as Registered Suppliers. Registered Suppliers are required to register each model of Controlled Goods with the Safety Authority. Registrations of Controlled Goods must be supported with CoC issued by designated CABs located in Singapore or in Singapore's MRA partners, i.e. CABs (Certification/Testing), or SDoC declared by Registered Suppliers.
Once the model has been registered with the Safety Authority, the Controlled Goods can then be advertised for supply and/or supplied in Singapore.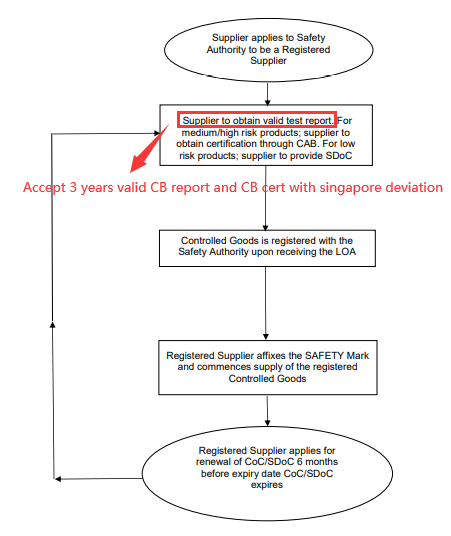 Controlled Goods
Enterprise Singapore categorises the Controlled Goods into three risk levels - Low, Medium, or High. The table below shows the conformity assessment approach adopted for each of the three risk levels.

Low Risk Goods For Example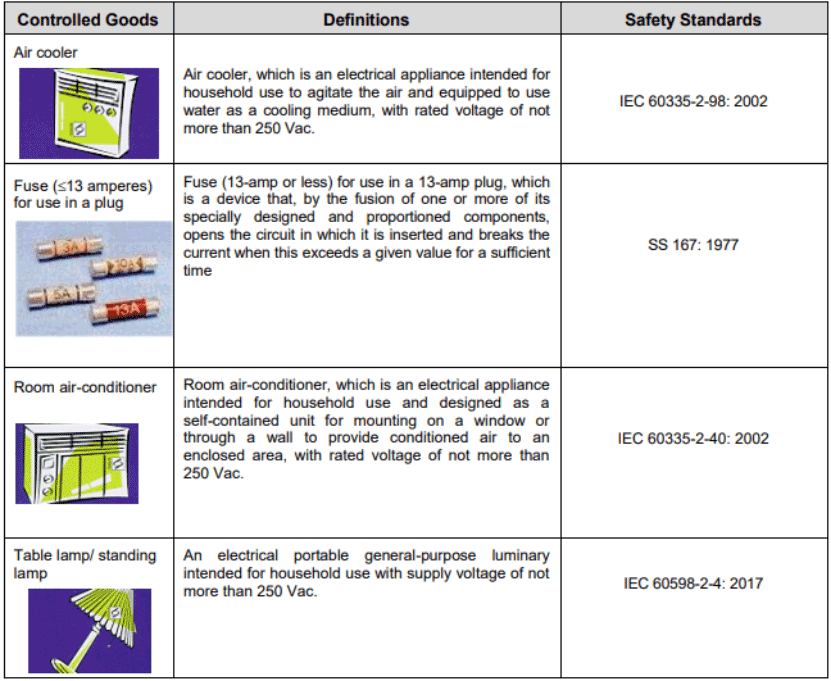 Media Risk Goods For Example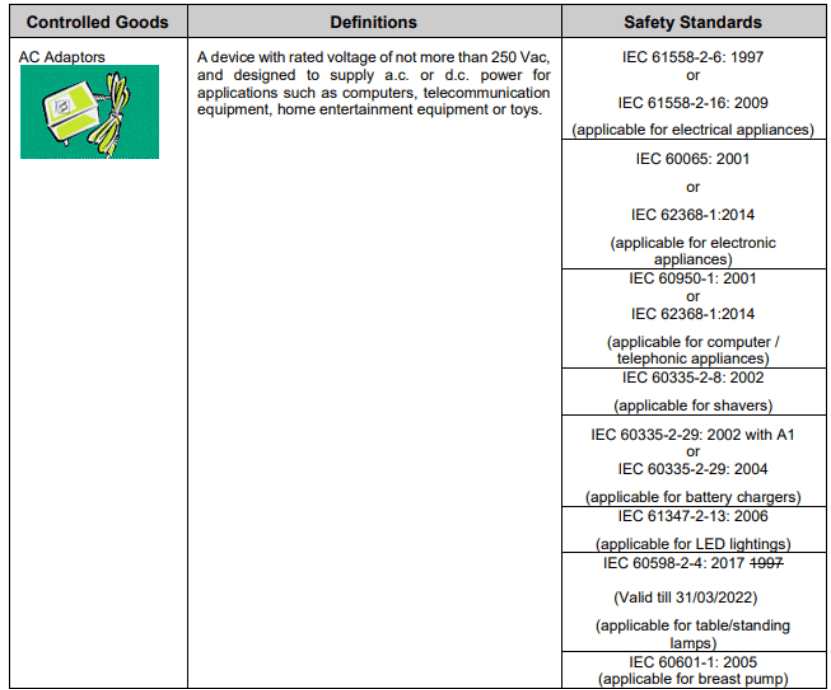 High Risk Goods For Example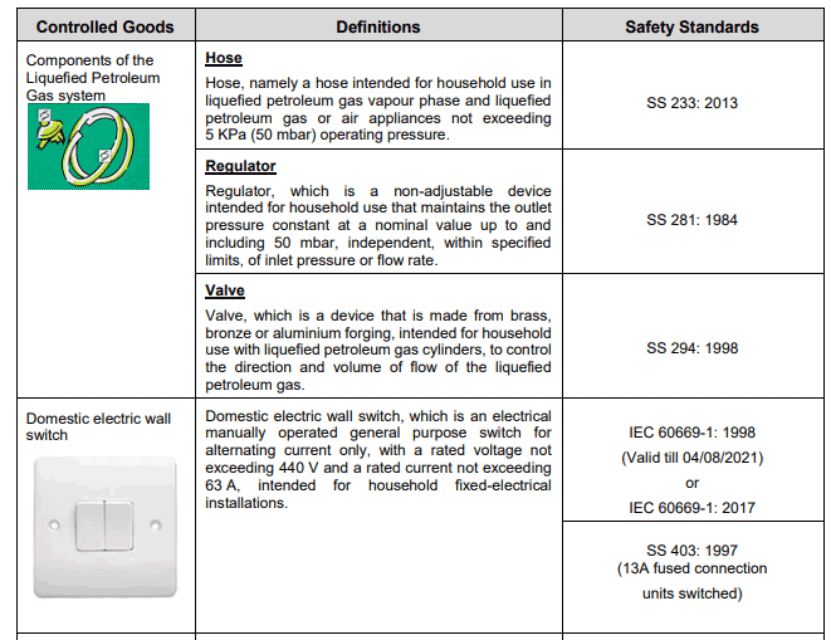 Safety Mark
The SAFETY Mark comprises of a safety logo enclosed in a square on the left and the word "SAFETY MARK" enclosed in a rectangle on the right. Below the logo is a unique certification number traceable to the registrant. The color used is Pantone 032C.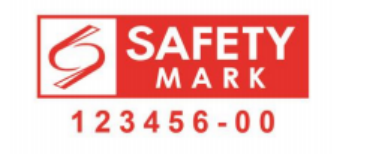 Excellent Services from HTW
HTW is CBTL who can issue CB report and get CB cert and can be accepted by Enterprise Singapore directly to apply CPS certificate.Flexible channels for CPS registration in order to satisfy various client's requirements. Registration lead time is 2-3 weeks.
Service Procedure
1. Provide us with product pictures, product brochures/manuals
2. Determine your needs(test report purpose/ test itmes/ standards)
3. Receive the testing/compliance service proposal and quotation
4. Sign contract and make payment
5.Send samples (please contact us for address info.)
6.Informed project opening and test TAT(turn around time) via email
7.Testing
8.Draft report for your confirmation
9. Formal reports endorsed by ILAC - CNAS (electronic version)
10.Sample Discard or Return