Gateway (IoT)
IoT Device / Gateway Testing and Certification
About HTW Lab:
HTW lab provide professional IoT certification and testing services that will help get your products to market faster, enabling greater sales and revenue. For technical regulation support, technicians at HTW are able to help you understand technical regulations and product design specifications.
Communicate with our experts to determine your needs and we will provide you with an evaluation, proposal and quotation. Email: sales@htwlab.com
Why Choose Us?
HTW Lab, accredited by CNAS, CMA, CNCA & A2LA, consistently operates competently and generates accurate and valid results in accordance with ISO/IEC 17025. We are also IECEE CB Scheme Test Laboratory (CBTL). Thus, testing reports from HTW Lab can be accepted between countries. 
HTW Lab has more than 20 years experience in providing wireless products testing and certification service, which is supported by our internal professional and technical team. We are capable of providing the CE/FCC/SRRC and other international certifications. Our IoT testing services cover a wide range of wireless devices including cellular radios, Wi-Fi, RFID, ZigBee, Bluetooth and BLE devices. We gained valuable experience in this field, with customers from the Healthcare & Life Sciences, Customer Electronics, Household Appliance, Telecommunication Industries etc. On the basis of acquired experience and the accuracy of testing, we can ensure the safety of your products and speed up your time to market.
Your Benefits At A Glance:
1.20 Years Of Experience
HTW has extensive experience in all types of devices and regulatory requirements across markets. 
2.Provide Free Modification Service Program
Together with our wealth of knowledge in complex regulations globally, HTW provides a complete suite of testing solutions according to your needs including free Modification service.
3.Save time to global markets
With over 7,000 square meters of labs, HTW offers the best testing cycles and you don't have to wait in line, HTW offers 1-on-1 service.With our in-depth insight of global product quality and regulatory requirements, HTW can optimize your costs and minimize your time to market.
4.Complete qualifications
ISO/IEC 17025 lab, accreditated by CNAS, CMA,A2LA,GLP.
5.Competitve price
located in China ,Testing costs are lower than other labs.
We're Here for You

We're based in China but regularly work with clients globally. We will get back to you in 1 working day.
Our Business Hours: 
8.30am - 5.00pm in CST (UTC/GMT+08:00) Monday - Friday 
Email:
Looking forward to receiving your email !
HTW Testing and Certification Solutions.
Certification Services We Offer
Experience in Testing Process
Q1: If the product contains an eSIM card, how to deal with it?
A1: You should use a physical SIM card slot instead of eSIM card
Q2: How to test IoT products?
A2: IoT products need to establish a communication connection with Wideband Radio communication tester CMW500.
Q3: What test items are easy to fail?
A3:Transmit Adjacent Channel Leakage Power Ratio, Transmit Spectrum Emission Mask, Transmit Spurious Emission, Reference Sensitivity Level
For IoT devices using GPRS (ESim Card), LTE Cat M and LTE NB, It is not easy to establish communication connection with radio communication test equipment. It's usually caused by the inconsistent authentication codes of eSIM and test equipment.
Reviews & Endorsement
1. 'I was very satisfied with our cooperation. We may continue in the near future. Keep in touch and have a great day! '
2. "Never received such a fast, precise, helpful, professional, and very smooth service for test report, and certification!"
Service Procedure
1. Provide us with product pictures, product brochures/manuals
2. Determine your needs(test report purpose/ test itmes/ standards)
3. Receive the testing/compliance service proposal and quotation
4. Sign contract and make payment
5.Send samples (please contact us for address info.)
6.Informed project opening and test TAT(turn around time) via email
7.Testing
8.Draft report for your confirmation
9. Formal reports endorsed by ILAC - CNAS (electronic version)
10.Sample Discard or Return
Our Accreditation and Cases
HTW Lab - Since 1980, specialise in IoT & wireless device testing. We work with you and grow your business. Kindly check our accreditation: ISO/IEC 17025 Accredited - CNAS: L1225; A2LA: 3902.01; FCC: 762235; IC: 5377A. In addition, login to FCC official website, find and click on 'Test Firm', search for 'HUATONGWEI' to see our cases on record (1655 Applications can be Found). Follow us on YouTube, you can find the step-by-step instruction - HTW Lab FCC Certification.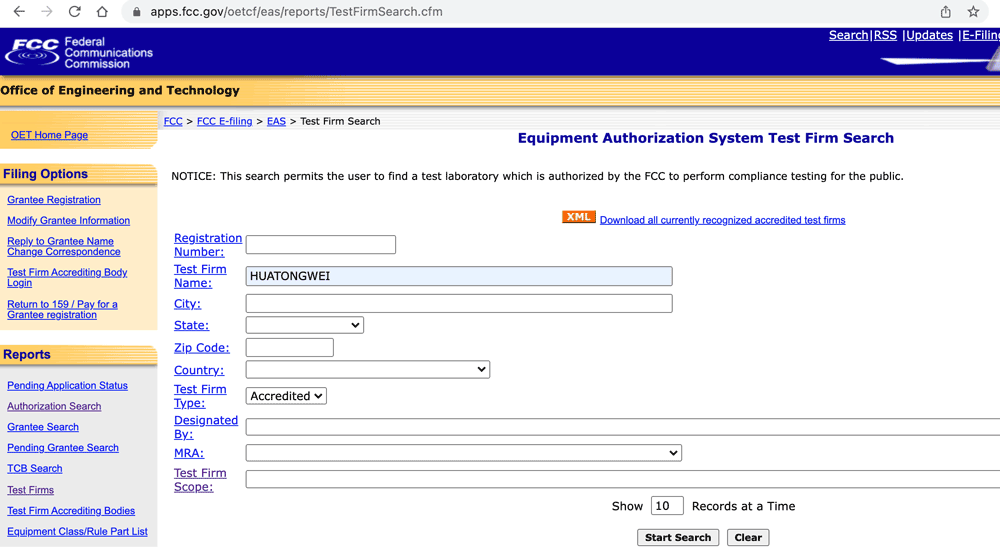 Requirement of Technical Documents
Qualifications of HTW Lab