FDA Approval
FDA Registration/Certification
About HTW Laboratory:
We provide professional FDA Approval services (including FDA 510K registration and FDA listing ) with competitive price that will help get your products to market faster, enabling greater sales and revenue. For technical regulation support, technicians at HTW are able to help you understand technical regulations and product design specifications. Communicate with our experts to determine your needs and we will provide you with a free evaluation, proposal and quotation.
Product We Test :

      1. Medical Devices

2. IVD (in vitro diagnostics)

3. Radiation-Emitting Products

4. Cosmetics

5.Animal Feed

Service We Supply:

1. Testing

2. Risk evaluation

3. Clinical evaluation

4. Technical documents

5. ISO 13485
What is FDA Approval ?
All the food, cosmetics, drugs, biological agents, medical equipment, and radio logical products must be FDA Approved before produced or imported in the United States. 
Why Choose Us?
HTW Lab, accredited by CNAS, CMA, CNCA & A2LA, consistently operates competently and generates accurate and valid results in accordance with ISO/IEC 17025. We are also IECEE CB Scheme Test Laboratory (CBTL). Thus, testing reports from HTW Lab can be accepted between countries.
Your Benefits at a Glance:
1.20 Years of experience
HTW has extensive experience in all types of devices and regulatory requirements across markets. 
2.Provide free modification service
Together with our wealth of knowledge in complex regulations globally, HTW provides a complete suite of testing solutions according to your needs including free modification service.
3.Save time to global markets
With over 7,000 square meters of labs, HTW offers the best testing cycles and you don't have to wait in line, HTW offers 1-on-1 service.With our in-depth insight of global product quality and regulatory requirements, HTW can optimize your costs and minimize your time to market.
4.Complete qualifications
ISO/IEC 17025 lab, accreditated by CNAS, CMA,A2LA,GLP.
5.Competitve price
Testing costs are lower than other labs.
Email:
You can also contact us directly by email.
HTW Testing and Certification Solutions.
Test items and standards (active medical device):
Test items/products category

Standards ( CNAS accredited)

General standards

EMC

IEC/EN60601-1-2, IEC/EN61326-1(-2-6),FCC Part15/Part18,




YY 9706.102, YY0505,GB/T18268.1,GB/T18268.26

Safety

IEC/EN/ES60601-1,IEC/EN 60601-1-6(-1-8) (-1-9) (-1-11) (-1-12),

IEC/EN61010-1(-2-101),




GB9706.1-2020,YY/T9706.106,YY 9706.108,

YY 9706.111,GB9706.112,




GB9706.1-2007,GB9706.15,YY0709,GB4793.1,YY/T0466.1

Environment

GB/T14710

Special standards

Endoscope series

IEC/EN 60601-2-18,ISO8600系列,




GB9706.218,GB9706.19,YY/T1603,YY/T0940,GB11244,

YY/T1587,YY/T1603,YY1298,YY/T0763,

YY/T0619,YY91083,YY0863,YY0864,YY/T0842,




YY1075,YY1082,YY/T0070,YY/T0071,YY/T0283,

YY/T1028,YY0499,YY/T0189,YY0068系列

Ultrasound series

IEC/EN60601-2-5(-2-37) (-2-62) (UD2/3),IEC 62359,IEC61847,

(diagnosis, physiotherapy)

GB 9706.205,GB9706.237,YY9706.262,GB 9706.7,

GB9706.9,GB10152,YY/T0644,YY 0448,YY/T 1142,

YY/T 1476,YY0906,GB/T16846,GB/T15214,

YY/T1767,YY/T1090,YY/T0593,YY0767

Optical series

IEC/EN60601-2-22(-2-25) (-2-47) (-2-57) (-2-83),

IEC/EN60825,IEC/EN62471,




GB 9706.222,YY 9706.257,GB9706.20,GB 7247.1,

GB/T 20145,YY/T1496,YY0306,YY0323

Monitoring equipment and accessories

(blood oxygen, blood pressure,

body temperature, ECG, etc.)

IEC/EN60601-2-27(-2-30) (-2-34) (-2-49),ISO/EN80601-2-56(-2-59) (-2-61),

ISO81060,ASTM E1965, E1112, ANSI/AAMI EC53,




GB9706.225,GB9706.227,YY 9706.234, YY 9706.247,

YY 9706.249,YY0668,GB9706.27,

YY1079,YY 0785,YY0667,YY 0670,YY/T 0783,

YY 0784,GB/T21416,GB/T21417,

YY 0828,YY 0601,YY/T0449,GB10793,YY1139,

YY0782,YY0828,YY/T 0196,YY/T 0885

Nerve and Muscle Stimulators

IEC/EN60601-2-10,




YY 9706.210,YY0607,YY0896,YY1095,YY/T0696,YY0868

High frequency class and accessories

IEC/EN60601-2-2,




GB9706.202,GB9706.4,YY 0601,YY0322

Infusion pump/syringe pump

IEC/EN60601-2-24,




GB9706.224,GB9706.27

Oral

IEC/EN60601-2-60,ISO7785.1,




GB9706.260,YY1045,YY0059,YY0836,

YY0837,YY/T1485,YY/T1147,YY/T1400,

YY/T1401,YY/T1602,YY/T1684,YY/T1120,YY/T1692,

YY0460,YY0055,YY/T1043,YY/T0058,YY0059

Hospital beds, operating tables

IEC/EN 60601-2-46(-2-52),




YY 9706.246,YY 9706.252,YY0570,YY0571,YY/T1106

Oxygen production equipment

EN/ISO 80601-2-69,




YY 9706.269,YY/T 0298

In vitro diagnostics IVD

IEC/EN61010-2-010(-2-020) (-2-030) (-2-040) (-2-051) (-2-081),ISO15197




YY 0648,GB 4793.3,GB 4793.6,GB 4793.7,GB 4793.9,GB/T19634,
Test items and standards (non-active medical device):
Test items/products category

Standards ( CNAS accredited)

Biocompatibility

Physical and / or chemical information

ISO 10993-18、GB/T 16886.18

Evaluation and testing within a risk management process

ISO 10993-1、GB/T 16886.1

Genotoxicity (Ames, chromosomal aberrations, genetic mutations, micronuclei)

ISO 10993-3、GB/T 16886.3

Hemolysis (rabbit blood), platelet count, complement activation, in vivo thrombosis, coagulation(PTT,PT)

ISO 10993-4、GB/T 16886.4

ASTM Hemolysis (rabbit blood, human blood)

ASTM F 756-17

Cytotoxicity (MTT method, direct contact method, microscope observation method, agar method, membrane filtration method)

ISO10993-5、GB/T 16886.5

Implantation (muscle, subcutaneous, bone)

ISO 10993-6、GB/T 16886.6

EO Residue

ISO10993-7、GB/T 16886.7

Sensitization (direct contact method, occlusive application)

ISO 10993-10、GB/T 16886.10、GB15979

Irritation (dermal, multiple dermal, intradermal, oral, ocular, penis, vaginal, rectal, direct contact, occlusive patches)

ISO 10993-10、GB/T 16886.10

Acute toxicity, pyrogen, chronic toxicity, carcinogenic

ISO 10993-11、GB/T 16886.11

Subacute systemic toxicity (oral, intravenous, intraperitoneal, subcutaneous implantation)

ISO 10993-11、GB/T 16886.11

Subchronic systemic toxicity (oral, intravenous, intraperitoneal, subcutaneous implant, intramuscular implant, bone implant)

ISO 10993-11、GB/T 16886.11

immunogenic

ISO10993-20、GB/T16886.20

In vitro irritation test

ISO10993-23

USP Class 6 Biocompatible

USP87、USP88

Cleaning, Disinfection, Sterilization Validation

Cleaning, Disinfection, Sterilization Validation

AAMI TIR30、AAMI TIR12、ASTM 3208-20、WS 310、WS/T 367、YY/T 0734、ISO 20857、ISO 25424、ISO 17664、ISO 17665

Packaging Verification

Simulate transport

ISTA 2A/3A、ASTM D4169

Packaging Verification:

Accelerated aging, vacuum leak, dye leak, seal peel, agar attack, sterility, visual, burst, air bubbles

ASTM F 1980-16、ASTM D3078-02、ASTM F1929、ASTM F88-15、DIN 58953-6-2016、USP、ISO11737-2、ASTM F1886、ASTM F1140、ASTM F 2096-11、YY/T 0681.1、GB15171、YY/T 0681.4、YY/T 0681.2、CP、GB14233.2、YY/T 0681.11、YY/T 0681.3、YY/T 0681.14、、YY/T 0681.5
Test items and standards (Chemical and physical performance):
Chemical performance

Standards/Items

Chemical Analysis and EO Residues

Turbidity, color, reducing substances, chloride, pH, evaporation residue, UV absorbance, residue on ignition, heavy metals, EO residue, ECH 2-chloroethanol residue, ETG ethylene glycol residue, collagen content, viscosity

breathing circuit

ISO 18562-1、ISO 18562-2、ISO 18562-3、ISO 18562-4

Physical performance

Standards/Items

Interventional devices (catheters);

Medical excipients;

Medical surgical instruments

Size, Surface Roughness, Flexibility, Breaking Force, Resistance to Bending Damage, Radiodetectability, Corrosion Resistance, Peak Tensile Force, Joint Firmness, Toughness, Tensile, Hardness, Compressive Strength, Burst Test, Heat Resistance, Leakage, particle contamination, gravity bearing, conical joints, flattening resistance, bending resistance, sliding performance, tightness, transparency, fit, patency, elasticity, rigidity...
Test items and standards (microorganism):
| | |
| --- | --- |
| microorganism | Standards/Items |
| Microorganisms (bioburden, microbial limit, total bacteria, initial contaminating bacteria, bacteriostatic effect, sterility) | ISO11737-1、ISO11737-2、CP、GB14233.2、USP、GB15979、GB19083、GB/T 19973.1、GB/T 19973.2、ISO 11137-1、ISO11137-2、GB18280.1、GB18280.2 |
| Bacterial endotoxin (gel limit method, quantitative chromogenic matrix method) | CP,USP,EP |
Test Procedure:
1. Provide us with product pictures, product brochures/manuals
2. Determine your needs(test report purpose/ test itmes/ standards)
3. Receive the testing/compliance service proposal and quotation
4. Sign contract and make payment
5.Send samples (please contact us for address info.)
6.Informed project opening and test TAT(turn around time) via email
7.Testing
8.Draft report for your confirmation
9. Formal reports endorsed by ILAC - CNAS (electronic version)
10.Sample Discard or Return
FDA supervise requirements:
FDA has established classifications for approximately 1,700 different types of devices, grouping them into 16 broad medical classes. All these are divided into three risk levels , class I, class II ,class III.
CLASS I

CLASS II

CLASS III

Listing / 510(k) (few)

510 (k) / PMA(few)

PMA






Clinical research

Products R&D Plan

PMA




Performance

Post-market surveillance

Efficacy feedback registration

special label requirements

Premarket Data Requirements

Guidance

Enterprise registration

Products Listing

Inappropriate labeling

510k

21 CFR 820 GMP/QSR

Records and testing reports
Sample Requirements:
Pls prepare the samples after our verification.
The samples should be provided safely with standard shipping status. Please provide the samples with sterile barrier packaging if the product is planned to sell under sterile conditions. Have a question about product testing and certification? If possible, kindly tell us 'how did you hear about us'.
Email us at sales@htwlab.com.
HTW Service procedure for FDA registration: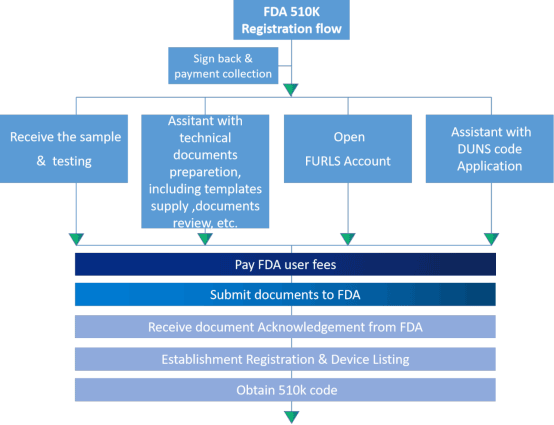 Test items and standards (wireless medical device):
Wireless Medical device and IVD

RF Test

(USA) FCC ID

(Canada) IC

(EU) CE-RED

(UK) UKCA

(China) SRRC

(AU) RCM

NFC

RFID-13.56MHz

FCC Part15.225

RSS-210

EN300 330

EN300 330

exempted

AN/NZS 4268

Bluetooth

WIFI - 2.4G

FCC Part15.247

RSS-247

EN300 328

EN300 328

信部无[2002]353号

AN/NZS 4268

WIFI - 5G

FCC Part15.407

RSS-247

EN301 893
EN300 440

EN301 893
EN300 440

工信部无函[2012]620号,
信部无[2002]277号

AN/NZS 4268

WCDMA

LTE

FCC Part22, 24, 27

RSS-132/133/139

EN301 908-2/-13

EN301 908-2/-13

工信部无函[2015]135号,
工信部无函[2015]136号,
工信部无函[2016]193号,
工信部无函[2016]507号,
工信部无函[2012]436号

AS/CA S042.1
AS/CA S042.4

Wireless coexistence test

ANSI C63.27, AAMI TIR69
Animal consumption (including pet food) FDA registration
As required by the FDA Food, Drug, and Cosmetic Act:
All Animal consumption (including pet food), like human food, must be produced under sanitary conditions, free of harmful substances, and truthfully labeled to ensure safe.
For additives in Animal consumption (including pet food), feed additives must be approved according to 21 CFR 570, 571, and 573. in the case of food additives that are not on the list in 21 CFR 573 or on the list but have a new intended use require a FAP application.
Colorants must be approved as specified in 21 CFR 70 and listed in Part 73, 74, or 81.
Animal consumption (including pet food) FDA registration classification:
Oilseed or Oilseed Products

Grain or Grain Products

Alfalfa Products or Lespedeza Products;

Amino Acids or Related Products;

Animal Protein Products*

Botanicals and Herbs*;

Brewer Products;

Chemical Preservatives;

Citrus Products;

Distillery Products;

Direct Fed Microbials*;

Enzymes;

Fats or Oils;

Fermentation Products;

Forage Products*;

Human food by-products not otherwise listed*;

Marine Products;

Milk Products;

Minerals or Mineral Products;

Miscellaneous or Special Purpose Products;

Molasses or Molasses Products;

Non-protein Nitrogen Products;

Peanut Products;

Processed Animal Waste Products*

Screenings;

Technical Additives*;

Vitamins or Vitamin Products;

Yeast Products;

Mixed Feed

Pet Food;

Pet Treats or Pet Chews;

Pet Nutritional Supplements

Pet Nutritional Supplements



Animal consumption (including pet food) FDA labeling requirements
1, FDA regulation
Federal regulations labeling requirements include Animal consumption net content table (weight, volume, or quantity), the name and address of the manufacturing, packaging, and distribution company, listing the content of different ingredients in the product in descending order, listing common or generic product names.
2, Other requirements
Some states also enforce their own labeling regulations, and most pet foods follow the Association of American Feed Control Officials (AAFCO) for pet food management.
CCIC-HTW FDA registration tips:
1. Animal consumption (including pet food) FDA registration, how long is it valid?
Valid for 2 years, then need to renew the registration every 2 years.
2. Do multiple products need FDA registration separately?
No. FDA registration for Animal consumption is done by enterprise according to product categories.
3. Will a certificate be provided after FDA registration?
There is no certification, we will provide the enterprise FDA registration number and PIN code.
Registration Number: The registration number given to the company by FDA;
PIN: The personal identification number of the registered company.
4. How long it will take to finish FDA registration for Animal consumption (including pet food)?
Depending on the FDA response time, generally no more than 1 weeks.
5. Do I need a U.S. agent?
Yes, if the company does not have a U.S. agent, we can provide agent services.
6. What do the labels contain?
l The name of the product.
l The species of animals for which the product is intended.
l A description of the amount of food in the package or container.
l A list of all ingredients in the product.
l A statement of nutritional adequacy, if required.
l The name and address of the manufacturer or distributor.