BT/Wifi Devices
Bluetooth & Wifi Products
About HTW Lab:
HTW lab provide professional certification and testing services that will help get your products to market faster, enabling greater sales and revenue.
Communicate with our experts to determine your needs and we will provide you with a free evaluation and proposal.
Why Choose Us?
HTW Bluetooth and Wireless Testing Solutions to help meet global requirements and regulations for your wireless devices. We are experienced in working with wireless products in categories including: Consume, Industrial, Electronics & IoT products, Household Appliances, Medical and Smart Home.

A growing number of products involve wireless technologies to compete in today's market. For this reason, new products must comply with regulatory compliance requirements before launch in different countries and markets. The expansion of frequencies in wireless device testing is a challenge for the TIC industry as well. As a leading company, we have experience in testing wireless devices, bluetooth products and Internet of things (IoT) devices. Talk to our experts about wireless testing and certification solutions.
HTW Lab, accredited by CNAS, CMA, CNCA & A2LA, consistently operates competently and generates accurate and valid results in accordance with ISO/IEC 17025. We are also IECEE CB Scheme Test Laboratory (CBTL). Thus, testing reports from HTW Lab can be accepted between countries.
Your Benefits At A Glance:
1.20 Years Of Experience
HTW has extensive experience in all types of devices and regulatory requirements across markets. 
2.Provide Free Modification Service Program
Together with our wealth of knowledge in complex regulations globally, HTW provides a complete suite of testing solutions according to your needs including free Modification service.
3.Save time to global markets
With over 7,000 square meters of labs, HTW offers the best testing cycles and you don't have to wait in line, HTW offers 1-on-1 service.With our in-depth insight of global product quality and regulatory requirements, HTW can optimize your costs and minimize your time to market.
4.Complete qualifications
ISO/IEC 17025 lab, accreditated by CNAS, CMA,A2LA,GLP.
5.Competitve price
located in China ,Testing costs are lower than other labs.
We're Here for You

We're based in China but regularly work with clients globally. We will get back to you in 1 working day.
Our Business Hours: 
8.30am - 5.00pm in CST (UTC/GMT+08:00) Monday - Friday 
Email:
Kindly tell us 'how did you hear about us'.
HTW Testing and Certification Solutions.
Certification Services We Offer
Our Accreditation and Cases
HTW Lab - Since 1980, specialise in IoT & wireless device testing. We work with you and grow your business. Kindly check our accreditation: ISO/IEC 17025 Accredited - CNAS: L1225; A2LA: 3902.01; FCC: 762235; IC: 5377A. In addition, login to FCC official website, find and click on 'Test Firm', search for 'HUATONGWEI' to see our cases on record (1655 Applications can be Found). Follow us on YouTube, you can find the step-by-step instruction - HTW Lab FCC Certification.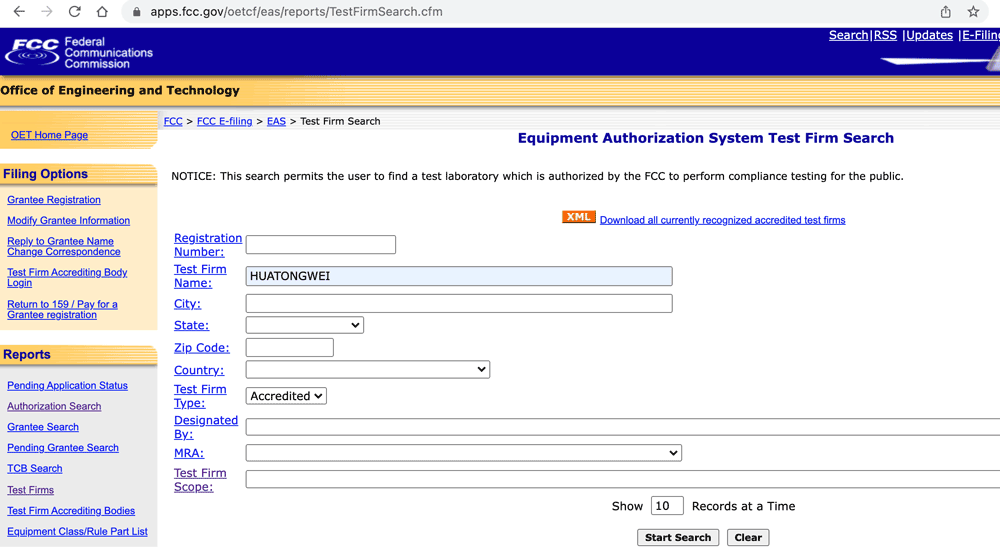 Experience in Testing Process
Q1: Do Bluetooth products need to be tested at fixed frequency?
A1: Yes, it must be able to switch the working channel, maintain continuous transmission, switch between different modulation methods, switch the modulation mode;
Therefore, it is necessary to provide product fixed frequency guidelines and fixed frequency software.
Q2: When testing, do customers need to declare the transmit power value of their products?
A2: Yes, our test should be based on the customer's declared transmit power value
Q3: When testing, do customers need to inform their product's antenna to gain value?
A3: SRRC, RED, UKCA, RCM certification required,
FCC ID, IC, NCC, JRL certification not required
Q4: What are the common unqualified test items?
A4: Transmit spurious emission
Service Procedure
1. Provide us with product pictures, product brochures/manuals
2. Determine your needs(test report purpose/ test itmes/ standards)
3. Receive the testing/compliance service proposal and quotation
4. Sign contract and make payment
5.Send samples (please contact us for address info.)
6.Informed project opening and test TAT(turn around time) via email
7.Testing
8.Draft report for your confirmation
9. Formal reports endorsed by ILAC - CNAS (electronic version)
10.Sample Discard or Return
Sample Requirement
2 sets of complete samples
1-2 sets of test mode samples
Fixed frequency software
Note: Requirements of test mode sample
1. Connected with RF cable
2. Fixed frequency software installed or provided
3. A fixture (control panel) is required for single Bluetooth products
4. Fulfil testing requirements(support Fixed frequency,Frequency hopping,Continuous launch, etc.)
Requirement of Technical Documents