EMI Pre-Compliance Testing
Conducted Emissions Testing and Radiated Emission Testing for Wireless Device
About HTW Lab:
To support your EMI testing journey, HTW Lab has come up with an EMI Pre-Compliance Testing Solution. Talk to our expert to get an EMI Testing solution for your IoT Devices, ZigBee Devices, WLAN Devices etc. Perform a quick EMI pre-compliance test of your wireless device and have the confidence that you'll pass final EMI Compliance Testing.
Communicate with our experts to determine your needs and we will provide you with a free evaluation and proposal.
The Electromagnetic compatibility (EMC), Electromagnetic Interference (EMI) pre-compliance and debugging tests, when started early, can greatly reduce the cost of EMC & EMI management. The Electromagnetic compatibility (EMC) and Electromagnetic Interference (EMI) pre-compliance testing in your hardware development process can help you avoid costly and time-consuming redesigns after EMC compliance testing failure.
Why should you perform the pre-certification testing and then witnessed final testing on your product?
The answer is that it actually saves you time and money. If your product is tested directly by an agency and fails to comply, it will be sent back to you to retrofit for compliance. When you are ready to resubmit for 'another try,' you will potentially be at the end of a 4-8 week waiting queue. Such a process is very time consuming, depending on the types of design challenges that you are facing. Although you may pay extra for pre-certification testing, you gain the ability to see and fix problems before your product is evaluated by an agency witness. We can also provide consulting services to assist you in the process of finding feasible, cost effective solutions to your certification challenges, prior to final, agency witnessed testing.
Pre-compliance testing dramatically improves a device's chance of passing EMC testing and significantly lowers the risk of failure during the certification process. Failing an EMC test poses a substantial threat to project deadlines and budget – something no company wants to go through. All wireless devices or consumer electronics can be pre-tested in the research and development stage before starting small-scale/large-scale production and formal testing and certification. In addition, local testing is mandatory for wireless device testing and certification, but the prototype has only 1-2 retest opportunities in some countries.
During product testing and certification, the best way to avoid detecting EMC problems far too late is to include EMC in early design reviews, actively search for interference-causing emissions on the PCB or component level during EMI debugging, followed by pre-compliance testing on the assembled product. 
Your Benefits At A Glance:
1.20 Years Of Experience
HTW has extensive experience in all types of devices and regulatory requirements across markets. 
2.Provide Free Modification Service Program
Together with our wealth of knowledge in complex regulations globally, HTW provides a complete suite of testing solutions according to your needs including free Modification service.
3.Save time to global markets
With over 7,000 square meters of labs, HTW offers the best testing cycles and you don't have to wait in line, HTW offers 1-on-1 service.With our in-depth insight of global product quality and regulatory requirements, HTW can optimize your costs and minimize your time to market.
4.Complete qualifications
ISO/IEC 17025 lab, accreditated by CNAS, CMA,A2LA,GLP.
5.Competitve price
located in China ,Testing costs are lower than other labs.
We're Here for You

We're based in China but regularly work with clients globally. We will get back to you in 1 working day.
Our Business Hours: 
8.30am - 5.00pm in CST (UTC/GMT+08:00) Monday - Friday 
Email:
Kindly tell us 'how did you hear about us'.
HTW Testing and Certification Solutions.
Why HTW Lab
Why HTW Lab
1. We are an international mutual recognition laboratory accredited by CNAS and A2LA. The capability scope of our laboratory covers common wireless test standards of many countries.
2. If your product has been pre-tested and passed the pre-test in our laboratory, then we can keep the data of your pre-compliance test. In addition, If the radio frequency parameters, antenna type and power supply mode of the prototype/samples are the same, we are able to offer you a competitive price for the formal compliance testing and certification in the near future.
3. We are dedicated to providing testing, certification and technical regulations consulting services to help global market access and international trade. For technical regulation support, technicians at HTW are able to help understand technical regulations and product design specifications.
Test Procedure for Pre-Compliance Testing
Test Procedure for Pre-Compliance Testing

1. Provide us with product pictures, product brochures/manuals
2. Determine your needs(test report purpose/ test itmes/ standards)
3. Receive the testing/compliance service proposal and quotation
4. Sign contract and make payment
5.Send samples (please contact us for address info.)
6.Informed project opening and test TAT(turn around time) via email
7.Testing
8.Draft report for your confirmation
9. Formal reports endorsed by ILAC - CNAS (electronic version)
10.Sample Discard or Return
A pre-compliance test can be easily adapted to individual requirements since it is not bound by any rules, enabling fast and cost efficient measurements. In some cases, fast testing is key, in others maximum accuracy and reliability are needed. Test environments differ greatly depending on whether conducted or radiated interference is measured. Also, our experienced technician team is able to offer debugging services. We offer competitive prices and charge the pre-compliance testing and debugging services separately. For more information, please don't hesitate to contact us! Email us at sales@htwlab.com.
Sample Requirements
The samples should be provided safely with standard shipping status. Please provide the samples with sterile barrier packaging if the product is planned to sell under sterile conditions. Have a question about product testing and certification? Email us at sales@htwlab.com. If possible, kindly tell us 'how did you hear about us'.

Other Testing and Certification
Other Testing and Certification
Electromagnetic Compatibility (EMC) Testing & Certification
EMC Testing for Medical Device
EMC Testing for walkie-talkie products
Electromagnetic Interference (EMI) Testing
Electromagnetic Compatibility (EMC) Pre-compliance Testing
Anechoic EMC Chamber Solutions
Specific Absorption Rate (SAR) Testing
Can't find what you're looking for?
Email us at sales@htwlab.com
Our Accreditation and Cases
Our Accreditation and Cases
HTW Lab - Since 1980, specialise in IoT & wireless device testing. We work with you and grow your business. Kindly check our accreditation: ISO/IEC 17025 Accredited - CNAS: L1225; A2LA: 3902.01; FCC: 762235; IC: 5377A. In addition, login to FCC official website, find and click on 'Test Firm', search for 'HUATONGWEI' to see our cases on record (1655 Applications can be Found). Follow us on YouTube, you can find the step-by-step instruction - HTW Lab FCC Certification.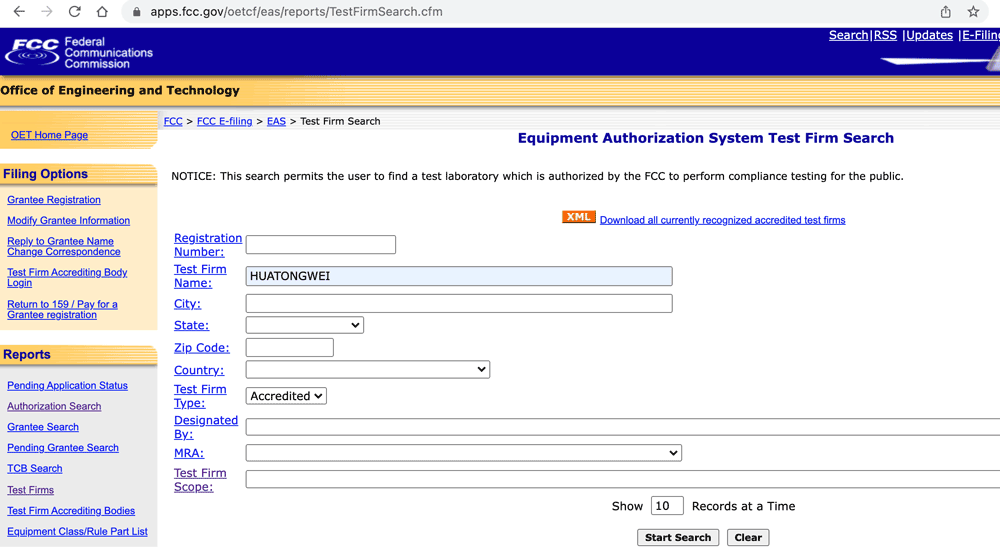 Standards We Test To
Standards We Test To
CE (RED) certification
Radiated Emission & Conducted Emission Test Standards
EN 300328 (for Bluetooth, WiFi)
EN 301893/EN 300440 (for WiFi 5GHz)
EN 300220 (for LoRa, Sigfox)
EN 300330 (for RFID, NFC)
EN 301511 (for GSM)
EN 301908-1/EN 301908-2/EN 301908-13 (for 3G/WCDMA/LTE/LTE-M/NB-loT)
… ...
FCC Certification
Common Test Standards for Electromagnetic Interference (EMI)
Radiated Emission Test & Conducted Emission Test
Part 15B, Part 15.247, Part 22H, Part 24E, Part27, Part 90
… ...